THE NO. 9 SQUADRON STANDARD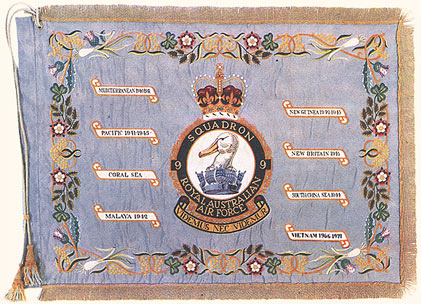 A moth-eaten rag on a worm-eaten pole
It does not look likely to stir a man's soul;
'Tis the deeds that were done 'neath the moth-eaten rag
when the pole was a staff and the rag was a flag.

— Sir Edward Hamley


The Standard is a fringed and tasselled banner in Royal Air Force blue, mounted on a pike surmounted by a Golden Eagle. It has a decorative border of roses, thistles, shamrocks, leeks and wattle.
In the centre is the Squadron Crest portraying an Albatross head encircled by the Naval Crown. The Latin motto, VIDEMUS NEC VIDEMUR, means 'We See Without Being Seen'. White scrolls on each side are inscribed with the Battle Honours of the Squadron.
The Origin of the Standard
The original use of a symbol by the Armed Forces is lost in antiquity. It is known that the Assyrians, Egyptians, Greeks and Romans all had Ensigns and Standards, which were regarded with the greatest veneration.
Standards have been used by British Forces for many centuries. It is probable that their original purpose was to be a rallying point during a confused battle. Enshrined on The Standard are Battle Honours recording the proud traditions of the unit concerned and constituting a memorial to those who have gone before and have contributed to those traditions. Above all, The Standard is a symbol of the Sovereign's trust in the unit concerned.
The practice of consecrating colours is of very long standing and, because of this religious significance, The Standard becomes not only an outward sign of unity, loyalty and achievement, but also a symbol of fellowship with God.
The combination of these factors places a deep significance in the Squadron Standard. It is to be honoured as a symbol of the trust which the Sovereign reposes in the Squadron and as an emblem of achievements. It is the shrine of our traditions, a reminder of the devotion and sacrifices of our predecessors and an inspiration to those who serve.
Standards for Royal Air Force Squadrons were created by his Late Majesty, King George VI on 1st April 1943, to mark the twenty-fifth anniversary of the formation of the Royal Air Force in 1918. Squadrons qualify for the award of The Standard after twenty-five years service or by having earned the Sovereign's appreciation for especially outstanding operations.
The Royal Australian Air Force was formed in 1921 and Her Majesty, The Queen approved the award of The Standard generally to operational Squadrons of the RAAF in 1952. The Squadron Standard was specifically awarded to No. 9 Squadron on 3rd December 1973 and was consecrated at RAAF Base, Amberley on 21st May 1975.
No. 9 Squadron Battle Honours
The following Battle Honours are included on the Squadron Standard:
MEDITERRANEAN, 1940-1941
PACIFIC, 1941-1945
MALAYA, 1942
CORAL SEA, 1942 NEW GUINEA, 1942-1943
NEW BRITAIN, 1943
SOUTH CHINA SEA, 1944
VIETNAM, 1966-1971
These additional Battle Honours were entitled for Royal Australian Navy ships at times when No. 9 Squadron elements were or may have been embarked. The now disbanded unit may also be entitled to due recognition.
CALABRIA, 1940
SPADA, 1940
MATAPAN, 1941
GREECE, 1941
CRETE, 1941
'KORMORAN', 1941 (Loss of 9SQN detachment personnel on sinking of HMAS Sydney)
MORESBY, 1941-1943
DARWIN, 1941-1944
EASTERN WATERS, 1941-1945
JAVA SEA, 1942
SUNDA STRAIT, 1942 (Loss of 9SQN detachment personnel on sinking of HMAS Perth)
GUADALCANAL, 1942
SAVO ISLAND, 1942 (Loss of 9SQN detachment personnel on sinking of HMAS Canberra)
UNIT CREST AND INSIGNIA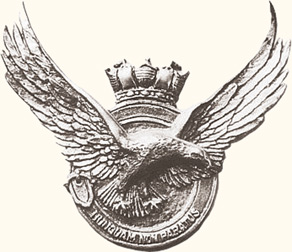 This unit crest was created by No. 101 Fleet Co-operation Flight but never accorded official recognition by the reigning Monarch during the life of the unit from 01 January 1925 to 20 April 1936. The Latin motto NUNQUAM NON PARATUS means 'Never Unprepared'.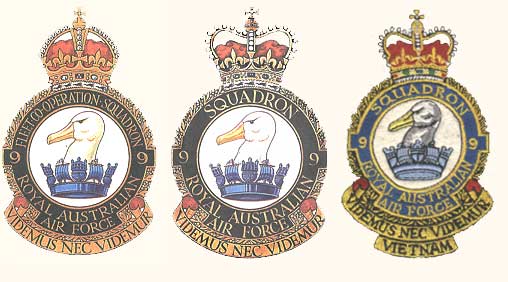 DESCRIPTION
The head of an albatross enfiled by a Naval Crown
MOTTO
VIDEMUS NEC VIDEMUR (We See Without Being Seen)
REASON FOR DESIGN
The squadron derived from No 101 (Fleet Co-operation) Flight which for a portion of its service was embarked in HMAS ALBATROSS.
ORIGINAL UNIT BADGE
May 1940
CLOSE COPY
October 1963 (Words 'Fleet Co-operation' removed)
CROWN BOUND BY
St Edwards
INSPECTOR
Original and Close Copy — Heaton-Armstrong
REMARKS
This unit badge was originally proposed as 5 (FC) Squadron.
A directive was issued to have the squadron function deleted from the title due to security reasons, therefore a close copy was produced in 1963.
During service in Vietnam, the squadron's badge appeared often represented with an unofficial appendage under the motto scroll, that of a further small scroll bearing the word 'VIETNAM'.
The Black-browed Albatross
Adult in Head-on Flight

New Island, Falklands
December, 2000
©Mike Danzenbaker
The head of a Black-browed Albatross on the No. 9 Squadron Unit Crest symbolizes No. 101 Flight and No. 5 Squadron (refer preceding data) association with the Royal Australian Navy seaplane tender HMAS Albatross. Royal Australian Air Force Seagull Mk3 aircraft were embarked between March 1929 and July 1938, before 'Albatross' was paid off on purchase for the Royal Navy.
Albatross wander vast distances over world oceans in search of food. They are skilled flyers, tapping wind energy by using a technique termed 'dynamic soaring', enabling them to fly for hours or perhaps days without flapping their wings.
The majestic Black-browed Albatross are found over antarctic, sub-antarctic and sub-tropical waters. They are among the smallest of the 24 Albatross species, approximating 80-95 centimetres body length, a wingspan of 210-250 centimetres, weight 3-5 kilograms and live for 30 or more years.
Black-browed Albatross fly fairly low and take food from the sea surface or just below, occasionally plunging from heights up to 9 metres. They eat mostly krill and fish.
They have a strong bond to their mate and colony of birth, returning to the same locality and nest around October each year to breed one chick. Nesting is on islands between 46 and 56 degrees South latitude. The Falkland Islands hold over 85 percent of the global population of Black-browed Albatross (estimated at 680,000 pairs) and are the most important breeding locality in the world for this species; however, many birds are being killed in this region through interaction with long-line fishing vessels.
Type black browed albatross into your internet browser and/or visit the following websites to view more information and some magnificent photography of this grand bird.
http://www.oceanwanderers.com/Black.browed.Alb.html
http://www.avesphoto.com/website/home.htm
http://www-aadc.aad.gov.au/default.asp?casid=1538
The Naval Crown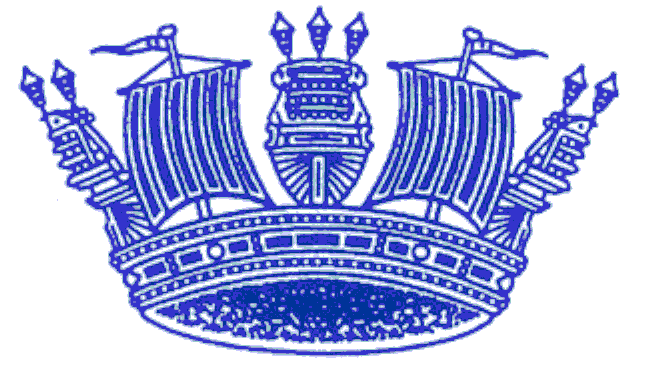 The Naval Crown on the No. 9 Squadron Unit Crest symbolizes association with Royal Naval forces including the Royal Australian Navy and Royal New Zealand Navy.
The original purpose of a crown is thought to have been to keep long hair out of a man's face; however, they became a symbol of rank and position, often worn by Royal leaders to portray their power and in battle to show they were due special protection from their own soldiers.
The Naval Crown (made up of alternate sterns and topsails) can be traced back to the Romans when a crown ornamented with a design of the 'rostra' or beak heads was awarded for bravery and was known as the 'Rostral Crown'. It can be seen on certain British Naval medals at the end of the sixteenth century.
During the eighteenth century, the Naval Crown in its present form was often used by Heralds when granting Arms to Naval Officers. Lords Nelson, Collingwood and Northesk added the crown to their Coats-of-Arms. Today, it surmounts the badges of Royal Naval ships.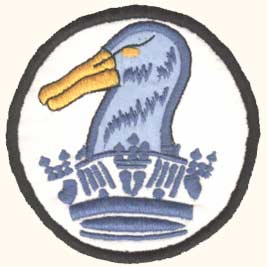 This cloth unit insignia patch was created during the early 1960's and worn for a time by Squadron personnel on work and flying clothing.
History of patch origin will be added, when known.